VYROX Wireless Smart Home Solution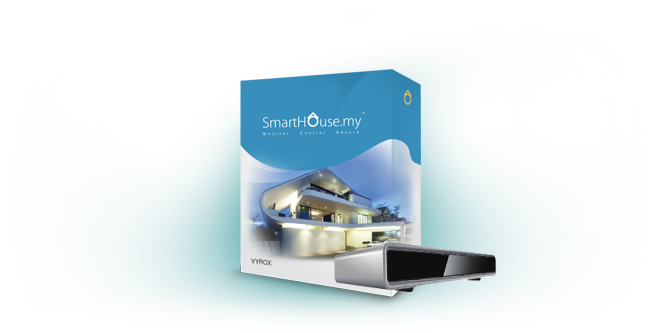 Product Description
Control every single electronic and electrical device of the building (house) using any web enabled devices, voices, gestures, motions and SMS at anywhere and anytime using Vyrox Smart House System. Such as lighting, air conditioner, TV, satellite TV decoder, sound system, DVD player, CD player, curtain, blind, sun-shader, valve, door lock, surveillance camera, gate, etc. Monitor and secure the house using the integrated web-based CCTV cameras and get notified by SMS & emails if any of the alarm is triggered by sensors of motion, vibration, rain, gas and smoke.
Product Specifications
Dimension: 150mm (Length) X 115mm (Width) X 20mm (Depth).
Wired Relays Controls: 8 controls, 220V, 10A, Max. Power: 2200W.
Wireless Radio Frequency Controls: 80 commands.
Infrared Controls: 50 commands.
One Touch Automation: 8 controls, max. 50 steps.
Schedule Automation: 8 controls, repeat daily/weekly, date & time basis.
8 Wired/Wireless Zones Alarm
Sensor Automation: magnetic, motion, temperature, gas, smoke & vibration.
Power Supply: 12V, 2A.
Control Interfaces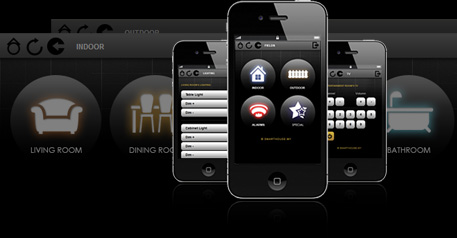 iOS (iPhone, iPad & iPod)
Android (Mobiles & Tablets)
PC
Apple MAC
Compatible Web Browsers
Google Chrome
Mozilla Firefox
Internet Explorer
Safari
Opera
Any browser with HTML & Javascript support
Video
e-Brochure
Please download to read more.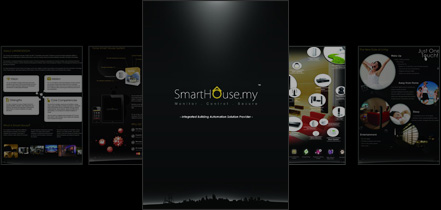 Last Update: 15th November 2011 (2.36MB |.PDF)
Vyrox Smart House Concept Philosophy
Please click to enlarge.
Wireless AV Solutions (Purchase Online)
We supply various type of Wireless Audio & Video products. Click here to buy.